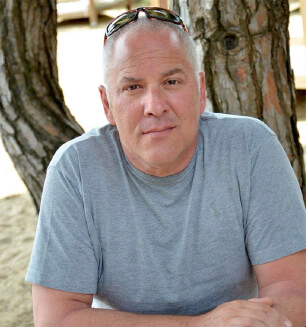 Eyal Guy, geboren in Tel Aviv, kocht und isst seit 1989 in Wien.
Mit Hungry Guy verwirklicht er seine Idee einer multikulturellen Street Cuisine: Guys Interpretationen der Küchen Westeuropas und des östlichen Mittelmeerraumes entstehen aus der Kombination einfacher Rohstoffe höchster Qualität. Verarbeitet werden nur die besten und sorgfältig in den Herkunftsländern ausgewählten Gewürze, Öle und Spezialitäten.
Im Mittelpunkt seines Schaffens und im Mittelpunkt von Hungry Guy steht die Frische erstklassiger Lebensmittel. Von diesem kompromisslosen Zugang zeugen die Schauküche und die offene Backstube, in der täglich wundervoll luftige Pita Brote frisch gebacken werden.
Nach dem Motto "Open Kitchen – Open Mind"steht bei Hungry Guy multikulturelle Vielfalt, sowohl auf der Speisekarte als auch im Team, im Vordergrund. Das Hungry Team besteht aus Street Food Chefs aus dem Irak, Italien, Jordanien, Israel, Schweiz, Syrien, Deutschland und Österreich.

"YUMMY! two shawarma pitas & fries! Bathrooms were clean and nice, it was so warm and cozy! really nice because it was raining and cold outside 🙂 service was super friendly and nice as well, overall great experience! it is a bit pricey though! The pitas may not look too big but we were so full after everything, thank you!! they had Budweiser on tap which i thought was interesting"

"I would give them 6 stars if I could! This was the most delicious and fresh food we have had in a while. The shawarma pita wrap was steaming hot with fresh veggies and meat. The veggie dinner was the best-tasting combination of beets, cauliflower, sweet potatoes, onions, falafel, beet hummus, and cucumber/tomato salad. The veggies were cooked perfectly!."

"Definitely Recommend This Place!"
"We went here for lunch, and it was great!
We really like the middle-eastern kitchen, so we have a lot to compare it with.
But both the pita shawarma and the cevapcici one were awesome. The pita's itself were nice and fluffy and the stuffing was also on point.
Definitely recommend this place!."

"A Genuinely Nice Surprise"
"A genuinely nice surprise, the concept of the restaurant is great (especially if you love pita bread) and the food was really good. The ambiance is pleasant and our waitress was very nice, I definitely recommend it if you want to eat something original. I was with some friends and it was great.."
Daily from 11:30 a.m. – 11 p.m.
Hungry Guy
Rabensteig 1,
1010 Vienna
Imprint
Ra1 Gastronomie GmbH & Co KG
Margaretenstrasse 21, 1040 Vienna